© Moray Firth Gansey Project June 2018
This project was part-financed by the Heritage Lottery Fund, and by the Scottish Government and The European Community Rural Aberdeenshire, Highland and Moray LEADER 2007 – 2013 Programmes.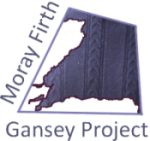 We had a stand at Wick Harbourfest on Saturday 16 June. The forecast was for a cold wet day, but by lunchtime it was warm and sunny. We met a lot of interesting and interested people, who shared their stories with us. Thank you all, and please get in touch if you find our anything more which will add to the body of knowledge about ganseys, their knitters and the life of the fishing communities around the Moray Firth.
Our stand, with a rather drunken sailor!