© Moray Firth Gansey Project June 2018
This project was part-financed by the Heritage Lottery Fund, and by the Scottish Government and The European Community Rural Aberdeenshire, Highland and Moray LEADER 2007 – 2013 Programmes.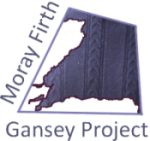 London Fashion Week
February 2011
Just before Christmas, Di Gilpin, knitwear designer and consultant to the project received a commission from fashion house Meadham Kirchhoff for a range of hand knitted garments with gansey designs. These included a dress, skirt, jumpers, socks, stockings and tights. Knitters from around the Moray Firth were among those who worked to complete the garments in time for the catwalk show on 22nd February.
Dave Thompson, MSP, submitted a motion congratulating the knitters from the Project.
Some of the news coverage: