© Moray Firth Gansey Project November 2020
This project was part-financed by the Heritage Lottery Fund, and by the Scottish Government and The European Community Rural Aberdeenshire, Highland and Moray LEADER 2007 – 2013 Programmes.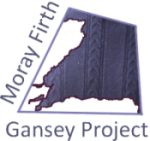 Here are a few small objects featuring traditional gansey patterns. Download the free patterns and try them for fun, or for a bit of practice in following a chart, working in the round etc.
Working a gansey pattern from a chart (these are knitted flat, not in the round):
Gansey teddy: this pattern was developed for one of our school knitting groups. The teddy has a gansey pattern on his jumper - the pattern includes a choice of six designs.
The gansey kid: A Ronney Ram kit, bought from the Artisan Threads stand at Ganseyfest, proved to have enough wool for a whole family. Here is the pattern for the lamb, with his gansey inspired coat. (140Kb)
Pennants: designed to decorate our stand, these are quite quick to make, and once you have the basic shape there is scope for experimenting with a variety of patterns. There is a blank template for your own designs. (Pennant pattern is 1.8Mb)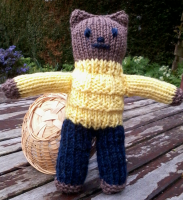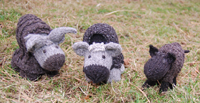 Working a charted design in the round:
Pin cushion decorated with the Caithness flag pattern. (350Kb)
This phone / I-pod sock is decorated with the anchor pattern found on some ganseys. We have also included a chart with a heart pattern from one of our Moray Firth ganseys. (1.4Mb)
Christmas decoration using one of the variations of the tree pattern often found on ganseys. This is slightly trickier to knit because of the shaping. (500Kb)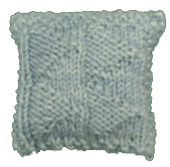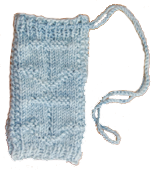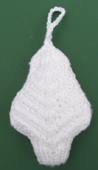 Gussets:
Small gusseted bag: this features patterns from one of our donated ganseys, and has a gusset at each side. (700Kb)
Fingerless mitts: the thumb gusset uses a lifted increase which can also be used for working a gansey gusset. (400Kb)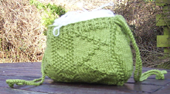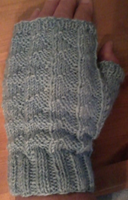 A bit of everything: this little bag was designed for a tutoring session at the Loch Ness Knitfest in 2019. It includes: a charted pattern, knitted in the round, gussets, and the bottom is closed using the shoulder strap technique. It will hold a ball of wool, so add a strap to go over shoulder or wrist for knitting on the go! (300Kb)