© Moray Firth Gansey Project June 2018
This project was part-financed by the Heritage Lottery Fund, and by the Scottish Government and The European Community Rural Aberdeenshire, Highland and Moray LEADER 2007 – 2013 Programmes.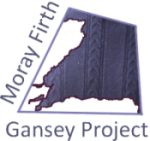 One of the reasons ganseys attract attention from both researchers and knitters is the range of patterns used as surface decoration. These are mostly created from simple plain and purl stitches, combined to make repeating pattern elements, which have been given names like nets, herring bones, marriage lines, ladders, etc. Cables and mock cables are often added.
Here are examples of some gansey pattern elements - for more examples check out the books listed on the Further Information page and web sites on our Links page. Many variations and different combinations of these pattern elements and motifs can be found in ganseys from around the coast. See the ganseys pages for patterns found around the Moray Firth.
The stitches used are simple: combinations of plain and purl, plus cables of various kinds. In the pattern drafts below "o" stands for a stitch which appears as a purl stitch on the right side of the work; the blank squares are stitches which appear as plain / knit stitches on the right side.
The patterns given here are examples; there are many variations.