© Moray Firth Gansey Project April 2020
This project was part-financed by the Heritage Lottery Fund, and by the Scottish Government and The European Community Rural Aberdeenshire, Highland and Moray LEADER 2007 – 2013 Programmes.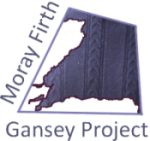 e-mail: ganseymf@gmail.com
The funded Moray Firth Gansey Project ended in 2013. Booklets are being dispatched by one of the former co-ordinators (who can be reached via the email above), from a private address. Individuals should order via the PayPal link (currently disconnected because of coronavirus movement restrictions); museums who need additional stock should email.
The ganseys donated to the project are now at the Scottish Fisheries Museum in Anstruther. However, we are still interested to hear about, see and record gansey patterns from around the Moray Firth area, so please keep sending information.
Officially the Gansey Project is no longer the responsibility of the Moray Firth Partnership, but should you wish to contact them you will find the details on their website.