© Moray Firth Gansey Project July 2020
This project was part-financed by the Heritage Lottery Fund, and by the Scottish Government and The European Community Rural Aberdeenshire, Highland and Moray LEADER 2007 – 2013 Programmes.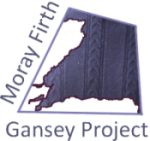 Click the link above to view a short (1:13 minutes) video about the Project
The Ganseys
To see the ganseys donated to the project go to the Ganseys pages of this web site, where you will find descriptions, photographs and pattern drafts.
The ganseys themselves are now at the Scottish Fisheries Museum, Anstruther. Please contact them if you wish to study them.
We are still interested in seeing old ganseys, patterns and knitting equipment, also old photographs of fishermen wearing ganseys, knitters etc. Please contact Moray Firth Partnership if you have any of the above.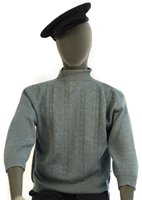 On-line Database
Informaton about the ganseys we have recorded is to be uploaded to the SCRAN web site. More information will be given here as this aspect of the project progresses. In the meantime, please contact Moray Firth Partnership for detailed information about the ganseys.

Highland Loop
This is a knitting co-operative, set up by the Gansey Project, and now operating independently. The emphasis is on producing quality goods, both on commission and self generated. Working as a co-operative gives bargaining power to negotiate better rates of pay for hand knitting. If you would like to commission work, or if you live in Scotland north of the Highland line and are interested in becoming involved in Highland Loop, please e-mail: highlandloop@gmail.com.
The photo on the right shows a cardigan Highland Loop were commissioned to knit for Sophia Kokosalaki for Paris Fashion Week, spring 2012.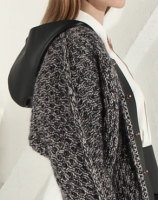 Competition
Our 2011 competition showed that there are a lot of creative people out there. The winning entries can be seen on the competition page. One of the patterns - the Beatrice Gansey - has been made available for you to download. Others may become available later.


Skills development
We have given talks and demonstrations to a wide variety of groups, and have run workshops at a number of venues around the Firth, and we continue to work with our school knitting groups. In addition we have made several instructional videos on gansey knitting techniques - see the How to pages for links to these. We have created patterns for several small projects so that you can try out different aspects of gansey knitting before embarking on a full size gansey.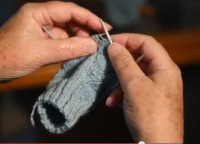 Donations for on-going work
The Project funding came to and end in October 2012, but some aspects of the work are on-going e.g. this web site, the travelling exhibition, the on-line database. If you wish to send us a donation in return for patterns or other information on the site which you have found useful it will be much appreciated and will help to pay for this work.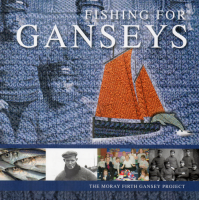 Booklet
Our booklet "Fishing for Ganseys" gives an outline of the project's research findings, with lots of stories, photos and charts of the stitch variations we came across in the Moray Firth area, plus a gansey pattern and links to other research. Click here to place an order for a booklet; price £4 plus postage.
There are five chapters:
1. Ganseys- the search is on: covering origins of project, research, the guernsey /jersey/ gansey debate, other fishing wear, etc with local stories and pictures
2. The Moray Firth area and Fishing: a quick history of the area's fishing heritage, the herring boom, Herring Girls, fisherwomen, etc
3. Ganseys, patterns and evolution
4. In the round: including our work with school children, golfing ganseys, Dutch ganseys
5. Fashioning the Future: continuing work to record ganseys, the travelling exhibition (now touring the UK), influence of ganseys on modern fashion development, plans for an online archive and the pattern for the "Beatrice Gansey". After publication we noticed some minor errors in this pattern. A corrected version, with two additional sizes is available on this site (download Beatrice gansey pattern).
In addition to the booklet there is also a short DVD available with some additional footage and interviews.
If you have any queries, e-mail ganseymf@gmail.com or telephone: 01463 725028.
Our travelling exhibition includes ganseys, pattern samples, pull-up banners and manikins. We have arranged for the exhibition to go to several coastal museums and heritage centres. If you are interested in hosting the exhibition, please contact Moray Firth Partnership.
Click to see some photographs of the Close Knit exhibition at Hull Maritime Museum in 2013
The photo at top left shows part of the Wick harbour banner triptych and part of the fishing ports banner. The picture was taken at Ganseyfest in 2011, and the manikins were borrowed for the occasion. We now have our own.
Pictured below is the box of pattern samples.